Israeli Prime Minister Benjamin Netanyahu will be indicted on bribery and breach of trust charges arising from three separate corruption investigations, pending a hearing, Israel's attorney general announced Thursday evening.
The announcement, so close to April's general election, marks a dramatic moment in Israeli politics and is a major blow to Netanyahu as he seeks a fifth term in office.He has repeatedly denied any wrongdoing, denouncing the investigations as a media-led witch hunt.
In a prime time broadcast shortly after the announcement, Netanyahu blamed the left for pressuring Attorney General Avichai Mandelblit — a Netanyahu appointee — to issue an indictment.
"The left understands that they will not beat me at the ballot box," Netanyahu said.
"They exerted extraordinary pressure on the attorney general to issue an indictment even though there is nothing, in order to influence the elections and to crown a left-wing government."
"This entire house of cards will collapse. I am sure of it 4,000%," he added, referencing one of the cases against him.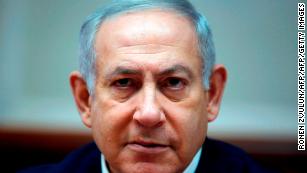 Under Israeli law, Netanyahu is not required to step down if he is indicted. He is only required to step down if he is convicted and that conviction is upheld through the appeals process, which could take years.
Netanyahu's main challenger in the upcoming elections, former military Chief of Staff Benny Gantz, called on him to resign after the attorney general's announcement.
"Because of the circumstances which have arisen, sitting [in a future government] with Benjamin Netanyahu is not something which is on the table," Gantz said Thursday evening in response to Netanyahu's statement.
"Benjamin Netanyahu — I turn to you this evening. Get over yourself and show national responsibility. Resign from your position. If you prove that you are innocent, you can return to the public realm and again lead your movement," Gantz added.
Thursday's developments cloud an already murky Israeli political landscape.
Netanyahu's political enemies will use the investigations against him, but his coalition partners must now decide whether to support a leader who is likely to be indicted or withdraw support and risk angering their shared right-wing voter base.
So far, key right-wing coalition partners have said they will still support Netanyahu, because he is presumed innocent until proven guilty.